New
Etudes Celtiques 47, 2021.
- Le torse du Masvigner au Grand-Bourg (Creuse). Un fragment de sculpture de la fin du premier ou du début du second âge du Fer dans la Marche ? (P. Léger, J. Gomez de Soto, H. Marevaud-Tardiveau)

- Celtique *duro- et *durno- (S. Zimmer)

- Magiciens et magiciennes gauloises, à propos des thèmes seno-, saino- (X. Delamarre)

- Les Sénons de Cisalpine et du Bassin Parisien (D. Hollard)

- Le territoire des Decangi (J. Lacroix)

- British /mb/ > /mm/ revisited (G. Broderick)

- Manx Ogam Inscriptions: A Reappraisal (G. Broderick)

- A newly discovered Irish tract on the divisions of time in Laon BM 422 (J. Bisagni)

- The etymology of Breton gad « hare » (D. Stifter)

- Middle Breton cazas lin and canastr lin 'flax shives' (A. Jorgensen)

- Pseudo -i-mutation in the Middle Breton verb (P. Faure)

- The Late Cornish Syntax of William Bodinar (J. F. Eska, B. Bruch)

- Le Dagda, la mort de Fergus mac Róich et l'asvamedha (G. Oudaer)
Référence : 54348.
French
Retour
In the same Epoch
New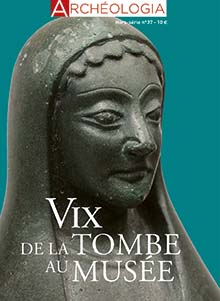 New