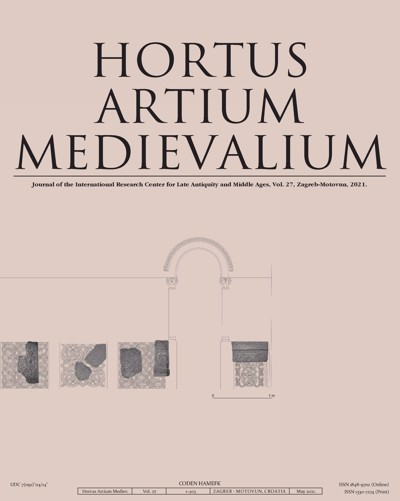 New
Hortus Artium Medievalium HAM 27, 2021.
Liturgical installations and their sculpture (4-15 c.)
- Casartelli novelli, «Pensiero immaginale» e messaggi salvifici nelle «pagine di pietra» dell'età carolingia
- Flammin, Istria, Le mobilier liturgique en pierre du groupe épiscopal de Mariana (Corse)
- Nicolau, Two Cypriot Workshops of Stone Church Furniture
- Peirano, Presbytery Furnishings in the 5th-6th Centuries Basilicas of Western Asia Minor and Neighbouring Islands
- Pedone, Transenne marmoree bizantine del tipo 'a colonne': uso, attestazioni, varianti stilistiche e diffusione
- Pola, Maletić, castiglia, ciliberti, L'arredo liturgico delle chiese adulitane (adulis-Eritrea). Nuovi dati dai recenti scavi del Pontificio Istituto di Archeologia Cristiana alla chiesa "del British Museum"
- Cerrato casado, Bermúdez cano, Nuevos indicios sobre la cristianización del suburbio occidental de corduba: fragmentos inéditos de escultura litúrgica procedentes de Huerta Camila
- Gutiérrez Lloret, sarabia-Bautista, amorós ruiz, Producción, uso y reuso de la escultura decorativa altomedieval de ambiente litúrgico en El Tolmo de Minateda: criterios para su contextualización cronológica y espacial
- Cebrián Fernández, hortelano uceda, Reconstructive Proposal of the Visigothic Liturgical Furnishing from the ecclesia in suburbio of segobriga (Cabeza de Griego, Cuenca)
- Sánchez pardo, de la torre Llorca, La producción de mobiliario litúrgico en la Galicia altomedieval: piezas, talleres y escenarios del poder
- Schiavi, Inediti per la ricerca sulla scultura e l'arredo liturgico a Milano e nel suo territorio tra i secoli VI e VII
- Beghelli, Sculpture in the seventh century CE. Some Securely Dated Objects in Context
- Lomartire, Sculture datate dell'Alto Medioevo nella Langobardia Maior. Una sintesi e qualche riflessione
- Coden, Arredi liturgici altomedievali nella diocesi di Verona: i cibori di San Giorgio di Valpolicellpassuello, A New Chronological Proposal for the Early Medieval Liturgical Installations of the Church of San Lorenzo in Verona
- Vaccaro, de Feo, Ferreyra, Gli arredi liturgici dell'abbazia di Fleury dall'età merovingia al XII secolo: indagine storico-artistica e restituzioni digitali
- Ferrari, La Cattedrale di Osimo e i fragmenta dei suoi arredi liturgici (VIII-XIII secolo)preliminary communication
- Tranchina, Gli stucchi di Terreti nel contesto: frammenti di una recinzione per la liturgia
- Gemelli, La cripta e l'ambone della cattedrale invernale di Santa Maria del Popolo di Pavia: alcune considerazioni sulla decorazione scolpita
- Di Bonito, La produzione scultorea a Napoli tra IX e XI secolo. Riflessioni storiografiche e materiali di studio
- Avagliano, Frammenti vecchi e nuovi: arredi liturgici altomedievali in Costa d'Amalfi
- Ebanista, Elements for a Chronology of Early Medieval Sculpture in Campania: The Liturgical Installations of the Bishops of Nola, Lupenus and Leo III in the Sanctuary of Cimitile
- Chardonnet, Sculpture liturgique et églises de pèlerinages de l'Est de l'Aquitaine. L'exemple des chancels de l'abbaye Saint-Géraud d'Aurillac au XIe siècle
- Vedovetto, The Liturgical Furnishings of the Basilica of Aquileia in the Time of Patriarch Poppo (1019-1042): A New Interpretation
- Musetti, Le decorazioni scolpite sui fonti battesimali italiani di età romanica (XI-XIII sec.)
- Reveyron, Dialogue des chapiteaux de l'abside et de l'autel dans l'abbatiale lyonnaise de Saint-Martin d'Ainay
- Kojima, Sacrament of Penance and Representation of Adam and Eve: Portal Sculpture of the Basilica of Sant'Antonino in Piacenza and the Cathedral of Lodi
- Calzona, Contese tra reliquie: l'arca di Abdon e Sennen nel 'paradiso' della cattedrale di Parma e quella di San Donnino a Fidenza
- Longo, Per una filologia dei materiali e delle tecniche dell'arredo liturgico tra Roma e il Sud Italia (XI-XIII sec.). I veltri di Montecassino e altri frammenti in opus sectile e tessellatum
- Gianandrea, Un crosscultural system per la scultura e gli arredi liturgici di Roma: materiali e tecniche nelle dinamiche di interazione culturale con il Meridione (XI-XIII secolo)
- Marchionibus, Pulpiti in Costiera Amalfitana: cappelle private, contenitori di icone e reliquie
- Scirocco, Sculture e arredi liturgici medievali a Cava de' Tirreni: restauri, recuperi e nuove acquisizioni
- Bordi, L'arredo liturgico medievale della cattedrale di Bari: note per una sintesi critica tra storia e storiografia
- Milanesi, L'ambone in stucco del santo sepolcro del complesso stefaniano di Bologna
- Chinappi, Il pulpito della collegiata di Santa Maria Maggiore a Tuscania: un pastiche di pezzi medievali e 'fantasie' dipinte
- Federici, Clausura and Liturgical Installations in Late Medieval Convents in Rome and Latium
- di Bello, Nuovi elementi per la storia della chiesa di S. Lucia a Marino: il contributo degli arredi liturgicipreliminary
- Alcoy, Barceló, Escenarios para el juicio y la liturgia en el sepulcro de santa Eulalia de la catedral de Barcelona
- Crispí i canton, Jornet-Benito, Las imágenes marianas, su indumentaria y ajuar: prácticas devocionales y liturgia a partir de los inventarios del monasterio de Sant Antoni i Santa Clara de Barcelona

Varia
- Pinar gil, Chiese, mausolei e corredi funerari: tendenze generali e casi particolari tra tardoantico e alto medioevo (V-VIII s.)
- Donabédian, hartmann Virnich, Martinez, Ereruyk (Arménie). Principaux résultats de la mission archéologique du LA3M (2009-2016)
- Iamanidzé, Le mécénat culturel et religieux des femmes en Géorgie au haut Moyen Âge
-Caillet, Exalter le souverain à travers le texte et l'image : l'exemple des Carolingiens, et sa longue postérité
- Brogiolo, Il vescovo Odelrico (1064-1080), la cattedrale e la chiesa di Santa Sofia di Padova
- Behaim, Kranjec, Mesas, tuset, ripoll, Sant Quirze de Colera (Alt Empordà, Girona). Análisis de la pintura del ábside sur de la iglesia abacial
- Olivares Martínez, An Iconography of Knowledge: The Façade of the College of San Gregorio in Valladolid
- Vagnoni, Le raffigurazioni di Federico III d'Aragona nel contesto figurativo del regno di Sicilia

Référence : 55756.
French
Retour
In the same Epoch
New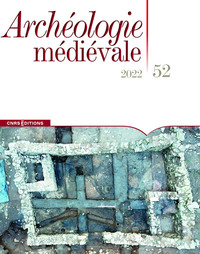 New
New