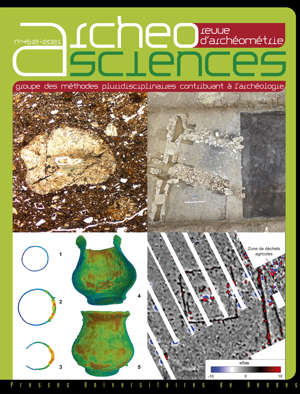 Revue d'Archéométrie - ArchéoSciences 45.2, 2021.
- Foyers empierrés du Bronze final : nouvelles données anthracologiques issues des structures de combustion du Pré-du-Stand (Grand-Saconnex, Genève, Suisse) (A. Henry, M. Piguet, T. Steimer-Herbet, M. Besse)

- Archéologie des économies insulaires : le cas du complexe archipel des Glénan. Île aux Moutons, une approche diachronique et paléoéconomique par l'apport des analyses céramiques (B. Gehres)

- Regards croisés sur le sanctuaire laténien de La Peyrouse (Saint-Félix-de-Villadeix, Dordogne) : confrontation des données géophysiques et archéologiques (J. Hantrais et al.)

- Silver jar from the bosporan sanctuary of Demeter and Kore: results of neutron tomography and XRF investigations (A. Zavoikin, I. Saprykina, L. Pelgunova, S. Kichanov, D. Kozlenko)

- Découverte d'une mare altomédiévale à Rivière-les-Fosses en Haute-Marne : l'Homme dans son environnement du Ve au VIIe siècle (G. Pertuisot et al.)

- Service, expertise et archéométrie : état d'une réflexion collégiale (M. Balasse et al.)

Addendum au volume 45(1)-2021
- Three-dimension (3D) presentation of a hominid cave using ground-penetrating radar (H. Qawasmeh, M. M. al-Hameedawi, L. Conyers)
- Culvert pipe resonance (V. Voipio)
Référence : 54474.
French, English
Retour